Trane ComfortLink™ II XL850 Thermostat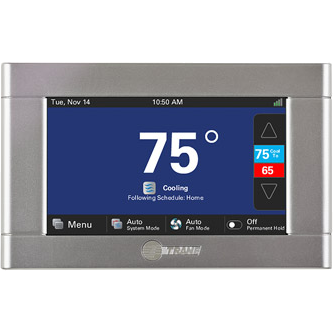 Smart Connectivity and Control
This exceptional thermostat combines a colorful touchscreen with a smart home hub, accessible via smartphone, tablet, or laptop, for the ultimate smart comfort experience. With the XL850's built-in bridge for Z-wave® devices, you have the ability to monitor and control over 200 devices in your home, from virtually anywhere.
Real Time Diagnostics
The ComfortLink® II XL850 comes equipped with Trane Diagnostics. When you opt-in to remote diagnostics, your dealer can access real time data about how your HVAC system is performing, and will be alerted if there's a problem. Plus, if you grant your dealer remote access, they can even tap into your system and help troubleshoot problems remotely.
Impressive Features
The ComfortLink® II XL850 boasts impressive features for homeowners to enjoy such as WiFi or ethernet connectivity, a color touchscreen, built-in bridge for Z-Wave® devices and programming for 7 days a week.
Exceptional Comfort
The ComfortLink® II XL850 works with a network of controls and sensors to optimize your temperature and humidity levels. Real-time adjustments, scheduling, and remote controls ensure your changing temperature needs will be fulfilled.
Additional Features of the ComfortLink® II XL850 Thermostat
As a Smart thermostat, ComfortLink II XL850 delivers an intuitive, colorful, user interface that you can easily control from phone, tablet, or laptop so that you can achieve idea home comfort or energy savings from virtually anywhere. The XL850's accompanying Z-wave® devices enables you to access over 200 devices in your home for easy monitoring, so homeowners can keep tabs on their home 24-7 and get real-time data and diagnostics help if there's ever a problem. No matter the season, you can tap into the comfort you deserve with Trane's popular ComfortLink® II XL850 thermostat.